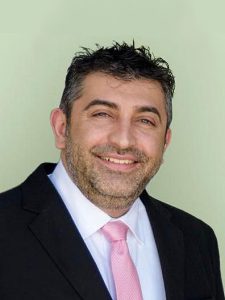 Dr. George Ayoub
Honorary Consul of Lebanon in Arizona

Dr. George R. Ayoub is currently the Honorary Consul of Lebanon In Arizona.
He is married to Christine and they have a girl, Amelia, and a boy, Romanos.
Dr. George R. Ayoub is a successful Doctor of Dental Surgery, a talented assistant professor and an accomplished businessman. He graduated from the University of Southern California Where he became a clinical assistant professor. Dr. Ayoub Moved to Arizona in 2005 where he opened over the years many offices across the state. More offices are set up as we speak.
Dr. Ayoub's professional success does not stop here. He is a board designee with Arizona State board of sedation permits. He has a diplomat with International Congress of Oral Implantology, A Mastership with American Academy of Implant Prosthodontics, he is a fellow with the prestigious Mish Institute and he completed a mastership at USC for Orofacial pain and oral medicine.
Dr. George R. Ayoub served as a Member of the Board of director of Caritas Lebanon USA, A Chairman of the American Lebanese cultural festival, the President and founding member of EKASS (Elias K Ayoub Scholarship Society),  president Of American Dental Society of Anesthesiology, Treasurer/Mastership chair at the Academy of General Dentistry , the President of Hammana Club of Southern California, member of the American and Arizona Dental Association, the American Academy of Cosmetic Dentistry, American Academy of Prosthodontics Dentistry and American Academy of Implant Dentistry.
Consul Ayoub also got many honors such as Certificate of Appreciation, Saint Joseph Maronite Catholic Church, Phoenix, AZ. An Outstanding Leadership Award by Hammana Club of Southern California, Paul Harris Fellow by Rotary Foundation of Rotary International, Phoenix Magazine top dentist Consumer research council of America top dentist. Outstanding Services, part time faculty member, USC School of Dentistry, Outstanding Community Service: Doctors Out to Care, USC.
In the first year of establishing the Honorary Consulate of Lebanon in Arizona in 2018, Dr Ayoub has been very active in organizing and helping the American Lebanese Community. He sponsored the ALEEP program (American Lebanese Education Exchange Program) that includes the development of a Lebanese Dialect Training Program for the community, as well as helping students from Lebanon to get internships with local universities and established companies. He also led the ground breaking on a new American Lebanese Cultural Center that is now open in Phoenix.