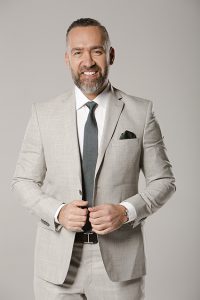 Philippe Ziade
Honorary Consul of Lebanon in Nevada

Philippe Ziade moved to the United States from his native Lebanon in 1998 to initiate his journey. Endowed with a limitless vision, Ziade has since found success by disrupting traditional methods in multiple industries, including real estate, technology, hospitality, education, and development. Ziade subsequently developed a network of successful multi-million-dollar businesses built on a foundation of innovation, ingenuity, and techonology in North America, Asia, Europe, and the Middle East.

Ziade credits his success to his investment in people: from his brothers who followed him to the U.S. through business opportunities, he established, to students in his native Lebanon, who are benefiting from hands-on educational opportunities he has created for them. Ziade has received widespread recognition, including his appointment as the Honorary Consul of Lebanon in Nevada; international covers, speeches, and interviews with Forbes, GQ, CNN, The Wall Street Journal, Bloomberg, FOX and more; as recipient of the United States congressional awards from Senator Catherine Cortez Masto, Congresswoman Dina Titus, the House of Representatives and Senator Dean Heller; and top rankings by The Wall Street Journal, #13 nationally #1 in Nevada in 2012 for both number of transactions and dollar volume. He most recently received the "Medal of Excellence" from the United States Military Academy, also known as West Point.

Withal, Lebanon was never far from his mind. Driven by his passion for his country of origin, he put forward the "Invest to Stay" initiative in association with the Ministry of Foreign Affairs and Emigrants. The program instills an inevitability mindset while sowing seeds of hope, allowing young people to dream big by turning their hopes into real opportunities and action plans.

In addition, Ziade maintains strong partnerships with universities across the Middle East to enhance the quality of education through the Invest to Stay program, a groundbreaking project that pays students' tuition through work they complete on behalf of companies. Ziade, along with others involved in the program, invests in the youth of Lebanon to encourage planting roots in their home country. Ziade graduated with dual degrees in civil and mechanical engineering from the University of Las Vegas, Nevada.